Australia ranks in top Global Top 50 for Online MBAs 2019
Australia's global reputation for high quality education continues,  with four Australian programs securing places in the global top 50 rankings of online MBA courses.
The Australian Graduate School of Management (AGSM) at the University of New South Wales (UNSW) Business School was again Australia's top ranked Australian onlne MBA course, climbing two places to number six in the world, while Deakin Business School dropped nine places to 24, La Trobe University climbed 12 places to 32 and Curtin Graduate School of Business climbed five places to 37.
The quality of Australian online MBA courses reflects increased competition with a number of new entrants to the market over the last 12 months including QUT's new Digital MBA and Macquarie University's new global online MBA.
2019 Rank (2018)

School

Duration

Fees

Average work Experience

Class size

6 (8)

40 months

$57,960 Domestic
$57,960 International

12 years

275

24 (15)

30 months

$50,700 Domestic
$60,600 International

12 years

122

32 (46)

18 months

$57,000 Domestic
$60,300 International

12 years

26

37 (42)

35 months

$35,550 Domestic
$40,000 International

14 years

15
The 2019 QS Distance Online MBA Rankings are based on six core indicators including employability, class experience and diversity.
AGSM Director and Deputy Dean UNSW Business School Professor Nick Wailes said the AGSM MBAX was now the most popular MBA at AGSM.
"Demand for online MBAs is on the rise because the new generation of leaders want flexible learning options and a curriculum that is contemporary and relevant for the realities of leadership in a fast-changing business landscape.
"The quality of the AGSM MBAX  – and its graduates – demonstrates that we are providing a world-class learning experience that is preparing leaders to keep pace with progress," he said.
Earlier this year, AGSM ranked 39th in the QS 2019 Global Full Time MBA Ranking and 40th in the world for the QS Global Executive MBA Rankings.
Deakin MBA Director Associate Professor Colin Higgins said Deakin had invested heavily in building its online program by focussing on innovative delivery, student engagement and providing connections to industry.
"The modern online MBA is all about providing not just flexibility in learning but also delivering real world connections," he said. "We have done a lot of work around deliver innovation with programs like our Masterclass."
Deakin's MBA Masterclass series allows students to explore contemporary trends and issues with industry leaders. Offered to both the public and current MBA students, each masterclass is succinct and informative and runs between 12 and 20 hours of facilitated delivery. Two masterclasses can also be stacked together offering you credit for one MBA elective unit.
La Trobe MBA Director Dr Geraldine Kennett said the strong improvement in the ranking over the last 12 months reflected an overhaul of the program and aligning more strongly to industry via its partners, including the Australian Ballet, National Gallery of Victoria, NORTH Link and the Melbourne Innovation Centre.
"Our online MBA is tailored specifically to working professionals with more than three years' management experience, which ensures a much more dynamic peer-to-peer learning and networking experience," Dr Kennett said.
"We have undertaken a pretty comprehensive refresh of the MBA over recent times to provide not only more relevant content, but provide a range of options for delivery."
"Online students are now able to enhance their experience with a range of face to face class options that give them the opportunity to be part of the on-campus experience, meet colleagues and engage with lecturers."
La Trobe online MBA students are now able to join courses on campus and even be part of the program's annual overseas study tour. Three of the six students who attended a China study tour as part of a NORTHlink trade mission to China were part of the online program.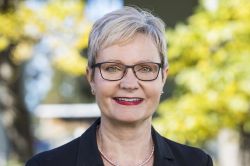 Ben Ready is the founder and Managing Editor of MBA News Australia (mbanews.com.au) and Online MBA (online-mba.com.au). He is a journalist, communications and digital marketing expert and also the founder of RGC Media & Mktng (rgcmm.com.au). He is a passionate advocate of MBAs and believes everyone who aspires to career advancement should get one.