What are the Benefits of an Online MBA over a traditional MBA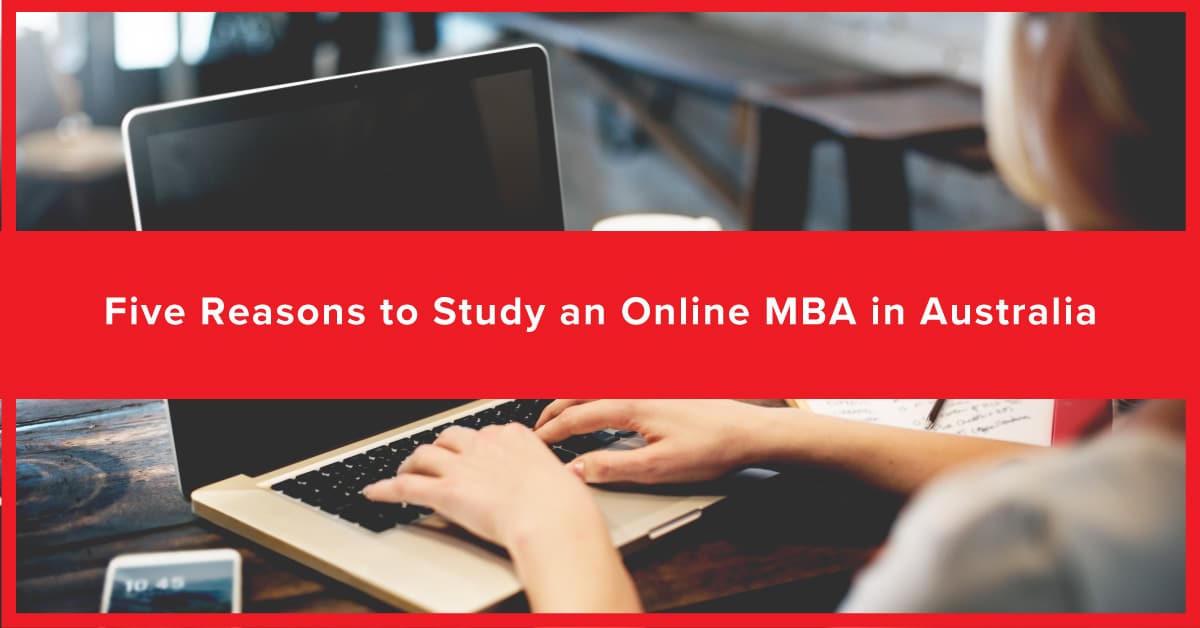 Studying an MBA online in Australia is becoming an increasingly popular option for busy executives and leaders looking to increase their competitive edge and gain an MBA without having to attend lectures or schedule their time around on-campus learning activities.
The Masters of Business Administration (MBA) in online mode is available in Australia through a number of different business schools and private providers.
Online MBA programs often mirror the content and achieve the same outcomes as an on-campus degree but can be a much more affordable option for self-funded students and more flexible for students juggling work and family commitments.
The online program delivery can be a mix of material sent through the mail, online webinars and forum-based communication so students can stay in touch with lecturers and other students.
Online MBA in Australia Benefits
Flexible Study Times
An MBA needs a large investment in time and energy. Removing the onus of having to attend lectures as specific times as well as travel, can give you more time to study and learn. An online MBA allows students to study at your pace and balance on other priorities like career opportunities or family commitments.
Affordability
For the many ambitious students concerned about tuition costs, MBAs can offer great value in terms of both base cost and timeline flexibility. It's possible in one case to find an accredited online MBA program for as little as $7,000 in total however more broadly typically between $5,000 to $10,000 a year, while some on-campus MBAs can cost more than $100,000. At many programs, it's also possible to adjust how many credits you take per semester, or how long it takes you to complete the program, based on how much you can afford to pay over time. And, of course, continuing to work while you're in school is an undeniable financial upside.
Access To Innovative Technologies
Increasingly online MBA course delivery is driven by technology. Many schools and MBA providers have developed custom portals that provide access to full course content, assisted learning, webinars, course forums and discussion boards and networking opportunities. The Australian Institute of Business (AIB) has been a leader in developing online learning technology.
Specialisations
A number of online MBAs now also offer a variety of specialisations within your MBA. For example, Ducere Business School has partnered with the University of Canberra and a range of leading Australian organisations to deliver the University of Canberra MBA (Innovation and Leadership) that puts industry experience first.
The MBA program is structured around three major projects with these industry partners. Over the course of your study, you will work on real projects with real commercial impact, while gaining exposure to the most successful and consequential organisations in the country.
Diversity of Courses
As online MBA courses become more popular in Australia the number of courses in growing every year, giving students the opportunity to select a course that suits their needs and budget. there are now  more than 15 different online MBA courses in Australia
The selection of online Master of Business Administration programs available in the online/off-campus mode offers a wide range of choices for the students looking for a flexible approach to study.

Ben Ready is the founder and Managing Editor of MBA News Australia (mbanews.com.au) and Online MBA (online-mba.com.au). He is a journalist, communications and digital marketing expert and also the founder of RGC Media & Mktng (rgcmm.com.au). He is a passionate advocate of MBAs and believes everyone who aspires to career advancement should get one.