10 Biggest Online MBA Programs (Updated)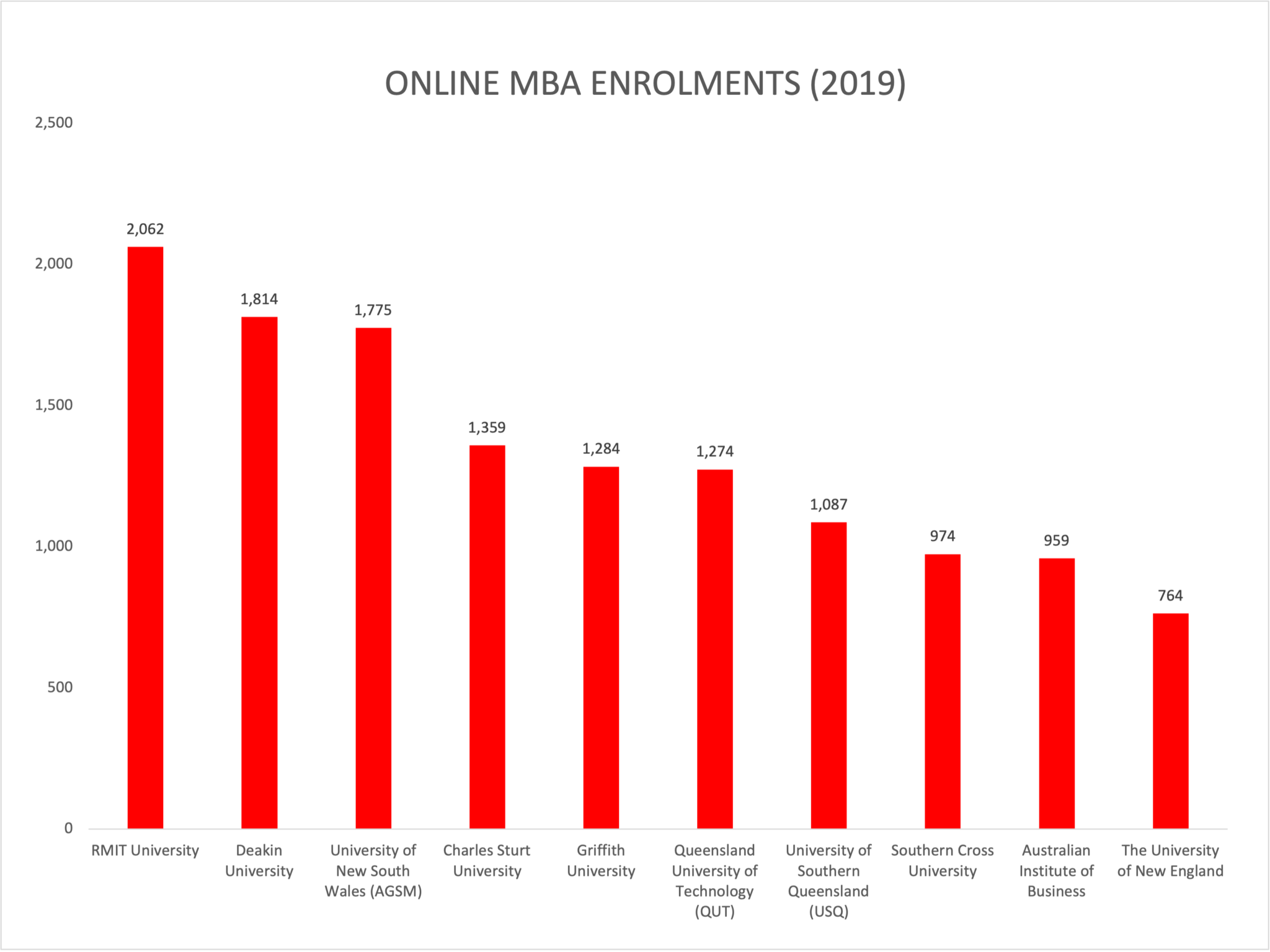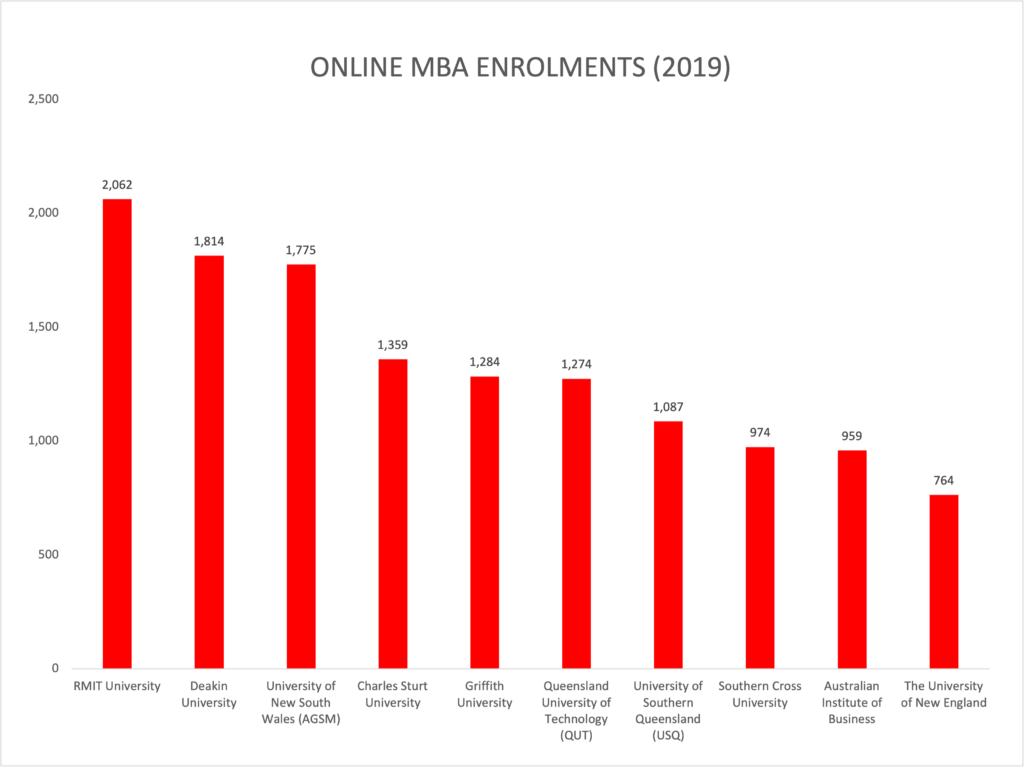 Data is based on the 2020 official enrolment data of students that enrolled in 2019.
Demand for online learning has continued to skyrocket in the past year as employees look to up-skill or re-skill for the post-COVID economy. The shift in lifestyle due to the pandemic has allowed more online courses to emerge and thrive.
New statistics of the 2021 enrolment data will not be available until next year. New statistics from Federal Government's Department of Education has identified the 10 biggest online MBA programs from 2019 by student numbers.
In reverse order, the 10 biggest MBA programs in Australia are:
10. The University of New England
Duration: 36 months
Fees: $37, 404 (domestic)
$28,000 (International)
Enrolled Students: 764 Online MBA Students (2019)
Total number of MBA Students: 859 (2019)
The University of New England's MBA will challenge you to think in new ways and encourage you to apply that learning immediately. From day one, you will be testing your knowledge against the real world, integrating it into your thinking and becoming a more effective and adaptable manager in the process.
This MBA programme enables students to develop a broad range of management skills and also provides the opportunity to specialise by majoring in human resource management, marketing, project management, leadership or international business.
9. Australian Institute of Business (AIB)
Duration: 18 months
Fees: $35,970 (domestic)
Enrolled Students: 959 Online MBA Students (2019)
 AIB's MBA programme is a fully accredited Master of Business Administration (MBA) qualification in Australia and recognised internationally. It's specifically designed for busy working adults, so it's delivered 100% online with interactive, 'snackable' content. The AIB MBA offers genuine flexibility, industry insights, practical skills and the support you need to become irreplaceable.
With a focus on practical learning, everything you learn during the AIB MBA will be relevant to real-world business scenarios. You'll apply new knowledge straight into your workplace and see theories come to life. Their internationally recognised MBA is one of the most affordable in Australia. With 100% online learning and monthly start dates, it has never been easier to fit study into your life.
8. Southern Cross University (SCU)
Duration: 16 months
Fees: $41,440 (domestic)
$50,406 (International)
Enrolled Students: 974 Online MBA Students (2019)
Total number of MBA Students: 3,331 (2019)
Southern Cross University's online MBA allows you to develop both the business know-how and the practical skills to advance your career or build your own business.
This online MBA course helps students examine contemporary management and develop solutions to complex commercial situations all through the prism of the fast-paced, ever-evolving global digital economy. The course is designed to enable students to get the most out of the program while fitting study seamlessly around work, family, and other priorities. It is 100% online.
You can begin at one of six times throughout the year and adjust your workload to suit your schedule. When undertaking this MBA, you will study broadly across a comprehensive suite of business disciplines and take one of four specialisations to gain the deep knowledge you need to enhance your professional expertise.
7. University of Southern Queensland
Duration: 18 months
Fees: $35,280 (domestic)
$42,600 (International)
Enrolled Students: 1,087 Online MBA Students (2019)
Total number of MBA Students: 1,370 (2019)
 The University of Southern Queensland (USQ)'s MBA program is designed to enhance students' analytical skills related to management, people, markets, finance, and technical knowledge.
The program focuses on how to demonstrate leadership in global sustainability and how to understand the nature of ethical decisions across contemporary business practice. The USQ MBA program will enable graduates to work in virtual and non-traditional work environments and increase personal mastery in oral and written communication.
USQ is a global Registered Education Provider (R.E.P.) accredited by the US-based Project Management Institute (PMI)®, which is the largest professional body for project managers in the world with over 450,000 members.
6. Queensland University of Technology (QUT)
Duration: 36 months
Fees: $62,400 (domestic) 
Enrolled Students: 1,274 Online MBA Students (2019)
Total number of MBA Students: 3,456 (2019)
In an era of rapid technological change and online innovation, the QUT Online Digital MBA will enable you to build expert knowledge and skills to lead future-focused organisations in the digital age. This Digital MBA offers all elements of a traditional MBA, like high-quality leadership and strategy education, while allowing you to study 100% online.
As part of QUT's Online Digital MBA you will be able to access your academic team, business coaches, engagement coaches and your cohort for support. The program will encourage you to challenge conventions and go beyond established approaches to industry practice and equip you to lead and manage decisively in the digital age.
5. Griffith University
Duration: 12 months
Fees: $51, 750 (domestic)
$56, 250 (International)
Enrolled Students: 1,284 Online MBA Students (2019)
Total number of MBA Students: 2,961 (2019)
The Griffith University Online MBA is based around values of responsible leadership; sustainable business practices; and a global perspective with the aim of making you an effective globally responsible business leader
In this programme, you will study courses in sustainability, accounting and reporting, finance, people management, strategy and innovation and managing change through responsible leadership. Through study, you will be equipped with an understanding of the key functional areas within a business and the challenges facing businesses.
4. Charles Sturt University
Duration: 18 months
Fees: $39, 000 (domestic)
$41, 400 (International)
Enrolled Students: 1, 359 Online MBA Students (2019)
Total number of MBA Students: 3, 765 (2019)
The Charles Sturt University Online MBA, offered through the University's Faculty of Business, has been designed to provide busy professionals with a highly flexible and workplace focused course that can fit in with lifestyle goals and commitments.
CSU's MBA program prides itself on being current and using industry professionals to ensure information is of a global quality. With a strong focus on management theory, graduates will be equipped to lead teams in a dynamic and changing world.
3. University of New South Wales (AGSM)
Duration: 24 months
Fees: $59, 760 (domestic)
$59,760 (International)  
Enrolled Students: 1,775 Online MBA Students (2019)
Total number of MBA Students: 8, 210 (2019)
Australia's top-ranked online MBA and one of the best ranked courses in the world, AGMS @ UNSW's MBAx program has set the standard for online postgraduate education in Australia.
READ MORE: AGSM Online MBA Among the World's Best in Latest Global Rankings
MBAX is AGSM's next generation online MBA. A unique online management degree that also allows students to specialise. The MBAX will prepare them to seize the opportunities in front of them and give students the edge they need to succeed.
2. Deakin University
Duration: 18 months
Fees: $50, 700 (domestic)
$60,600 (International)
 Enrolled Students: 1,814 Online MBA Students (2019)
Total number of MBA Students: 4,364 (2019)
Deakin University's MBA course structure provides an integrated experience designed to reflect the foundational business knowledge required of an MBA program, career development and employability, leadership and management skills, and an integrative capstone experience.
This online MBA is designed to meet your professional needs and to fit around your work, your family and your lifestyle. The Deakin MBA offers you the option to study on campus, in the Cloud (online) and through experiential delivery options.
1. Royal Melbourne Institute of Technology (RMIT) University
Duration: 24 months
Fees: $49 440 (domestic)
 Enrolled Students: 2, 062 Online MBA Students (2019)
Total number of MBA Students: 5, 935 (2019)
The globally recognised, accelerated RMIT online MBA program leverages RMIT's strengths in technology, innovation and design without compromising on traditional MBA areas of study such as leadership, strategy and cross-functional management. It offers electives and concentrations covering the latest advances in technology, digital trends, design thinking methodologies and authentic leadership informed by leading industry experts and world-class academics.
The program is completed via a highly social, online learning platform that not only gives you access to current, industry-informed content but also connects you with academics and students across time zones.
---
The fees listed are provided as a general guide only. They have been sourced from publicly available information or individual universities and business schools. In relying on the list above potential students should be aware:
The fees were sourced in December 2020 for students commencing in 2021 but may change in the future at each school's discretion; and 
Where schools have not provided full degree fees Online MBA Australia has made a judgement on the full degree costs based on information available. For instance, many schools provide on indicative annual fee for degrees which take 1.5 years to complete. In these cases Online MBA Australia has used current year indicative fees extrapolated over 1.5 years (ie $30,000pa x 1.5 years = $45,000); and
Current fees for units (variably called courses, subjects, credit points etc) may increase in the future before the completion of your degree, increasing the overall cost of your degree; and
The fees listed may or may not include incidentals like textbooks and other learning materials. In the case of study tours these additional fees can be substantial.
Fees for international students may be different; and
While all care has been taken to ensure their accuracy please consult your school on your full fee liability before commencing your MBA.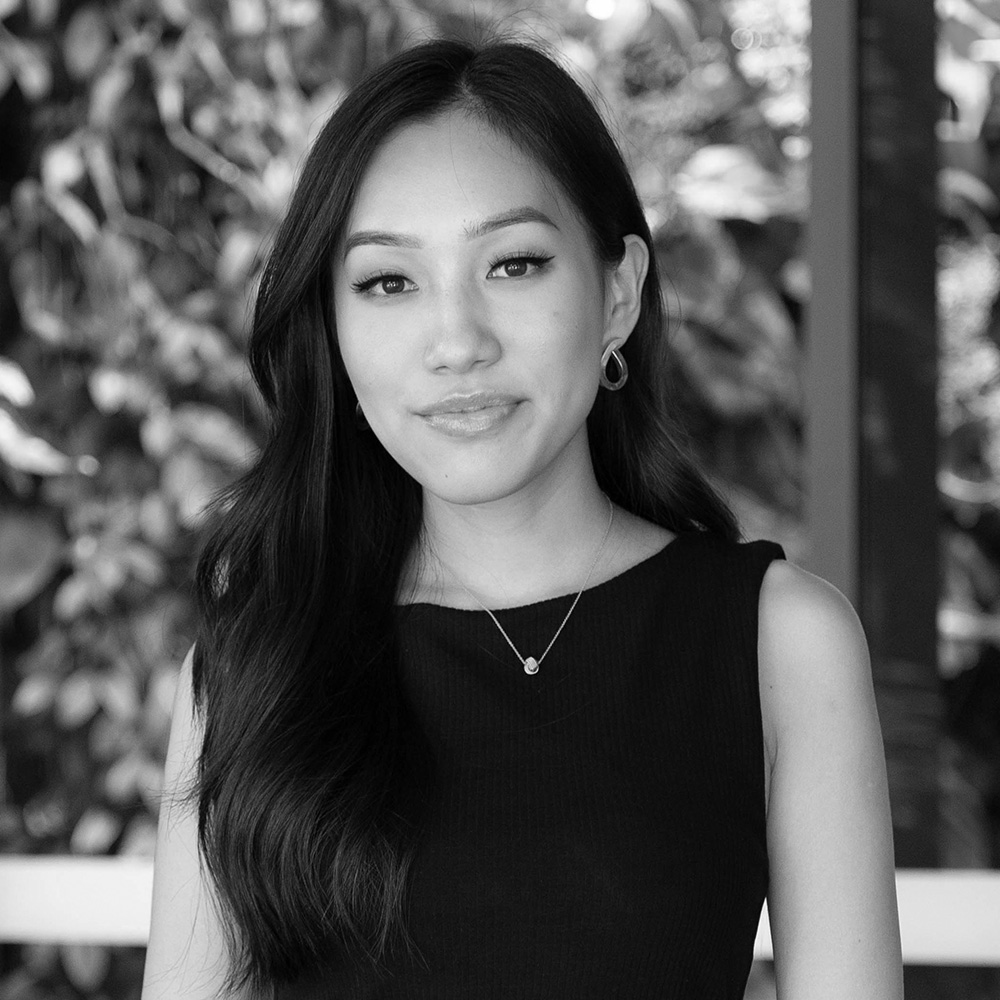 Rita Wang is a student at the University of Queensland. She is in her final year with a dual degree in Journalism and Public Relations. Currently working at RGC Media & Mktng, Rita is one of the content creators for MBA News. Rita has experience in communications, digital marketing and graphic design.